3rd National Jamboree
March 21, 2018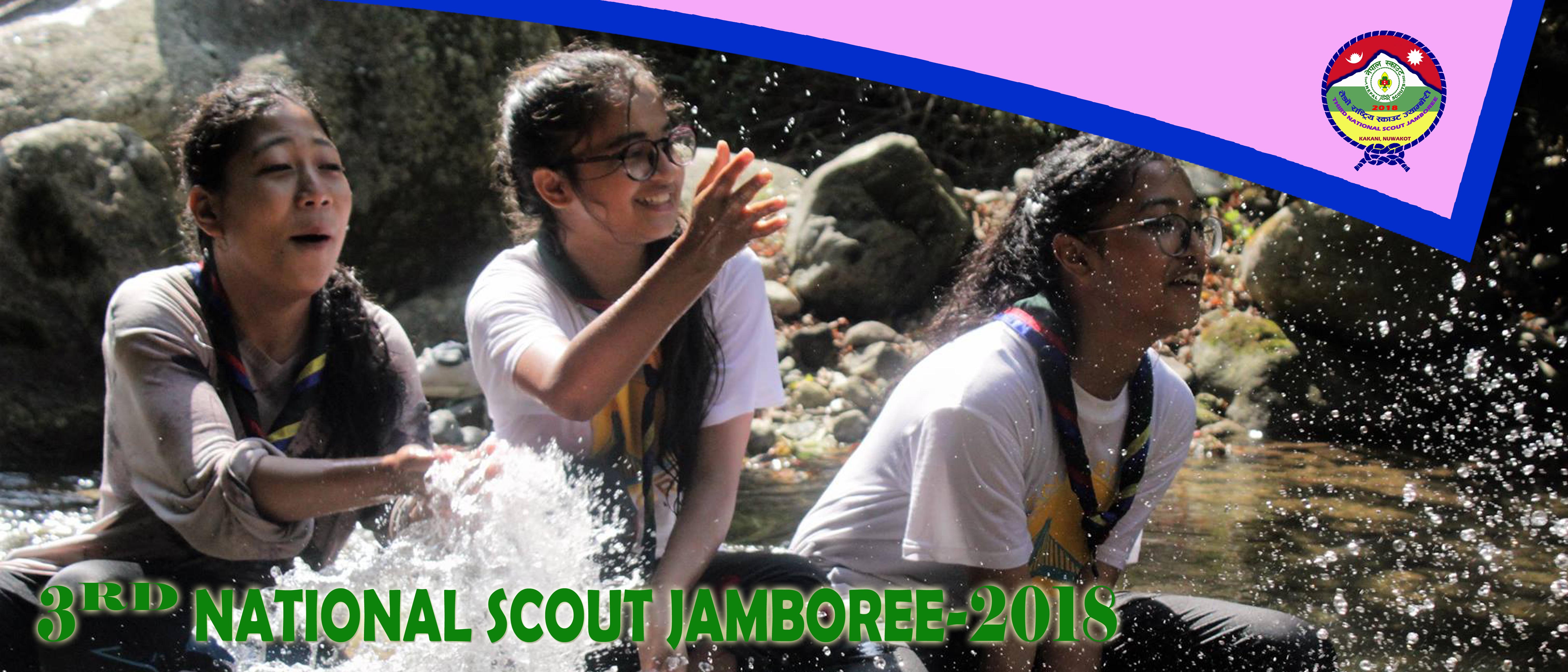 Welcome to Jamboree
3rd National Scout Jamboree of Nepal Scouts is here. This is scheduled to be organized at a beautiful location of Kakani International Scouts Center which is situated in Kakani Village, Nuwakot District, Nepal.
After the very first jamboree of Nepal Scouts in 1987 in Kirtipur and the Second one at Tikauli forest in Chitwan in 2013, third Jamboree is ready to thrill the scouts where more than 5000 will take part.
The Third Jamboree will include lots of exciting activities for the participating young people. The Right Hon'ble Prime Minister of Nepal who is also the Patron of Nepal Scouts will inaugurate the Jamboree.
We are ready to welcome Scouts from around the world in the biggest gathering of Scouts in the country. The venue offers a wide range of attractions including mirroring panorama of mighty Himalayas.
Jamboree Song

PRACTICAL INFORMATION:
When and Where: The Jamboree will be held from 30th May – 4th June 2018 in Kakni International Scout Center, Kakani, Nuwakot, Nepal.
Participation fee: Program registration fee NRs. 400 per person for Nepalese participants (includes Jamboree kit). Day visit entrance fee NRs. 50 per person.
International Registration Fee: US$100 (for SAARC) & US$200 per person for other countries (Includes Jamboree kit, Food & Accommodation in a tent).
Who may apply: Scouts at least B.P peak scout level and below 16 years are eligible to participate in the Jamboree. One Contingent Leader and 2 Scout Master (1 Girl & 1 Boy) for a group. Rover and Ranger are only allowed for observation, Research, and Volunteer Service.
How to apply: Fill the form designed by the Nepal Scout Headquarter, Lainchaur which has been distributed at district headquarters. For International participants, Forms will be available online via Google Form on Nepal Scouts website.  One must fill up the participation form and submit within 30th Baishakh, 2075 (May 13, 2018).
How can you get to Kakani, Nuwakot: You can get a local bus from Balaju By-pass, Kathmandu to Kakani directly. It's an amazing trip with accompany of forest views for around 2 hours to 3 hours trip. After the trip, there will be our program volunteers to welcome our every guest in the gate at Kaule Bhanjyang, way to Kakani.
Services: There will be all kind of immediate necessary facilities like: water, electricity, shopping stalls and so on. Additionally, there will be our volunteers to guide for the overall visits around the program arena with good hospitality and communication.
Visa: Visa may be obtained on the arrival to Nepal. For more information please consult http://online.nepal-immigration.gov.np/tourist-visa.
Climate: There will be a moderate climate of 15 degrees to 25-degree Celsius.
More Info
Form : [download id="1582″]
Form : [download id="1478″]
Online registration for International Participants