Leadership Training at Chitwan
June 24, 2017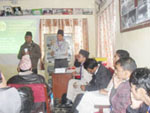 Recently, the first district Leadership and Strategic Plan Training has been conducted in the Bharatpur, Chitwan on November 18 – 19, were 56 active unit leaders participated on the training.
Opening ceremony was held on the presence of District scouts commissioners, authorities and some government officials. The chief guest, CDO of Chitwan, Mr. Basant Gautam, who is also chairperson of District Scouts Advisory Assembly inaugurated the program by flaming the light on the candle stand. He was the chief guest for the opening program.
In the welcoming the participants, the District Commissioner Mr. Tirtha Raj Neupane asked participants to participate actively and learn more about the strategic plan (vision 2020) of Nepal Scouts and get the ideas for good leadership. The Chief District Officer praise worthy for invaluable contribution that had done by scouts in the district in different period of time. He wished that with the effort of all the participants the training will run successfully and trainees will learn more leadership skills in order to lead the unit effectively.
The major focuses like Fundamental of scouting, communication skills, Vision 2020 & National Strategic Plan, Leadership skills development were enlightened by Finland Nepal Partnership Project (FNPP) coordinators; Ms. Prerena Shakya and Mr. Keshav Bohara in different session on two days of training.