NATIONAL TRAINERS SEMINAR
June 24, 2017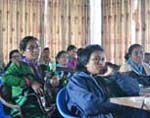 National Trainers' Seminar of Boys and Girls section of Nepal Scouts has been inaugurated by Chief Commissioner of Nepal Scouts Mr. Shree Ram Lamichhane on 27th October and 29th October respectively in Kakani International Training Centre at Kakani, Nuwakot. Addressing the function he quoted the prestigious seminar will be fruitful for the guidance for the trainer regarding qualification and quantitative training courses. He emphasized to prepare a team to produce trainers' handbooks and reference books for the proper guidance for trainers as well as unit leader.
Mr. Govinda Narayan Jya-po, former Chairperson of advisory council committed to handover Scouting materials to Nepal Scouts. Director of the seminar Mr. Shiva Kumar Poudyal and Ms. Puspalata Bhattarai focused on the aims and objectives of the seminar.
There were total of 107 Trainers' participants in the Training Seminar from 27 districts. Discussion on Strategic Plan of Nepal Scouts, Training Scheme, Youth Program and Training Courses were interacted. Comments and feedback were received to update the training documents. The trainers suggested that these kind of seminar and other gatherings should take place more often so that there will be uniformity in scouting method all over the country.