REGIONAL YOUTH FORUM
June 24, 2017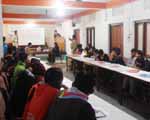 Recently the Regional Youth Forum were organized in Five Development Region (Western Region – Gorkha, Mid-Western – Surkhet, Eastern Region – Saptari, Far Western – Kailai and Central – Birgunj from 29 – 30 November 2013, 6 – 7 December 2013, 7-8 December 2013, 9-10 December 2013, 13-14 December 2013 respectively).
The programme included presentations about the fundamentals of scouting, basics of a Youth Forum and how to form a Youth Council, a panel discussion and group discussions. The topics of panel and group discussion were the same:
Youth scouts in improvement of image and quality of scouting
Youth involvement in Peace Building
Programs and activities to attract youth towards scouting
Role of scouts towards protecting environment
Based on the lectures and discussions, the youth elected members for the Regional Youth Council, Steering Group, Recommendations Committee, Rappouters Committee and Representatives of the National Youth Forum.