Youth Forum Orientation Workshop
June 24, 2017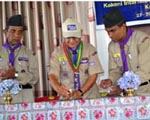 Youth Forum Orientation Workshop was conducted at Kakani International Training Centre from 27th to 29th June, 2013. The program was organized with the funding of Finland-Nepal Partnership Project running under Nepal Scouts.
The formal opening of the program was organized on 27th June. The Chief Commissioner of Nepal Scouts, Mr. Shree Ram Lamichhane was the Chief Guest for the Opening Ceremony. Mr. Lamichhane highlighted the importance of youth involvement in scouting and conduction of youth forum in each district.
The participants of the program were District key leaders specifically; District Commissioners and District Organizing Commissioners but there were other District representatives as well. The program sessions covered Nepal Scouts Vision 2020 mostly highlighting the strategic priority Youth Involvement. Introduction to Youth and Youth Forum was also discussed and other sessions such as guidelines to conduct youth forum, youth forum recommendation of the WOSM, etc. To give practical knowledge of conducting the youth forum the participants also had mock youth forum where they played roles of youth.