World Youth Program Policy by Mr. Steve Tyas, WOSM Consultant and Prepared to Learn, Prepared to Lead by Ms. Mel Reoch, WAGGGS Core Mission Lead Volunteer – Girl Experience
September 5, 2020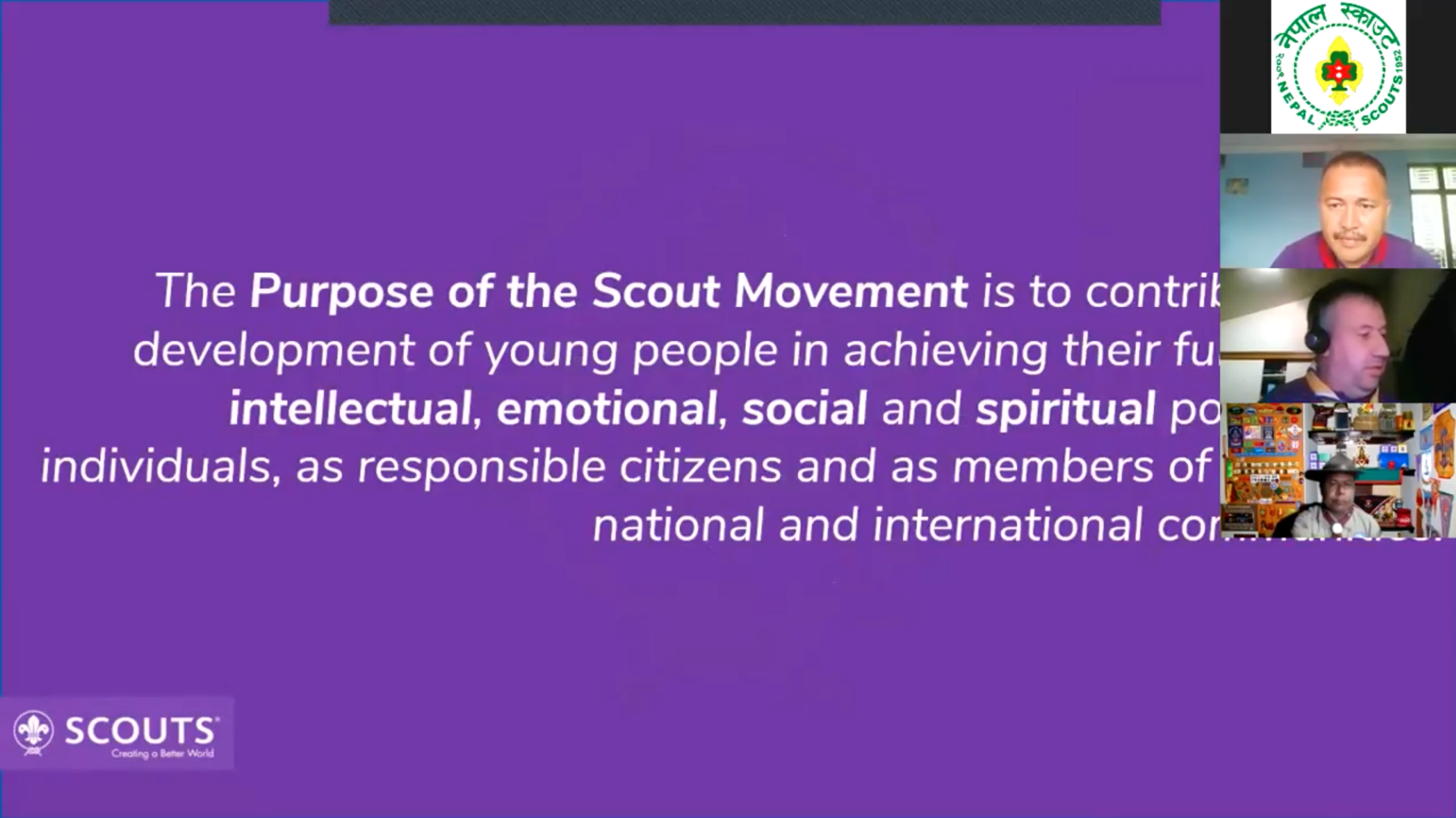 The reflection on the previous session held on 24th August, 2020 on "WOSM Guidelines on Spiritual and Religious Development" led by Bijendara Dhowju, Member, National Ad Hoc Committee was presented by Assistant National Leader Trainer, Mr. Shyam Paudasini.
The seventh session of the Capacity Enhancement Webinar Series was divided into two sections: i. World Youth Programme Policy and ii. Prepared to Learn, Prepared to Lead. The main objective of the session was to deliver updated knowledge on the related policies on Youth programme Formation.
The first section of the session was Led by Mr. Steve Tyas, WOSM Consultant on the topic " World Youth Programme Policy".
Firstly, he explained the Purpose of Scout Movement which is to contribute to the development of young people in achieving their full physical, intellectual, emotional, social and spiritual potential as individuals, as responsible citizens and as members of their local, national and international communities. Then he explained about the World Scout Youth Programme Policy. He mentioned that the Youth Programme in Scouting is the totality of the learning opportunities from which young people can benefit (What), the Scout Method(How) and the purpose of scouting (Why). Further, he also explained the purpose of scouting and its educational objectives.
Moving forward in the session, he explained about the areas of Personal Growth and said, a human being is made of :
Body -Physical Development
Intelligence -Intellectual Development
Emotions -Emotional Development
Social nature -Social Development
Soul -Spiritual Development
Furthermore, he illustrated the seven key principles for the Youth Programme which includes:
Have young people at its center
Be about Education
Develop Active Citizens
Be locally adapted and globally united
Be up-to-date and relevant
Be open to all
Be attractive, challenging, and meaningful
Furthermore, he also elaborated on how to use the world scout youth program policy and guide to implement programme in Scouting.
The second part of the session was then moved forward by Mel Reoch, WAGGGS Core Mission Lead Volunteer – Girl Experience.
In her presentation, she highlighted the core contents and summary of the WAGGGS document: Prepared to Learn, Prepared to Lead. She explained about the Girl Guide/Girl Scout experience. She also explained about the WAGGGS educational method and its five elements which includes:-
Learning in small groups
Learning by doing
Connecting with my world
Connecting with others
My path, my pace
Next, she explained about the vision and mission of WAGGGS.
She also presented practical illustrations on using REAL(Real, Exciting, Accessible, and Learner – Led) to alleviate the quality of Girl Scouting and Girl Guiding Experience. Group Discussions among participants were conducted using Breakout Rooms.
Both parts of the session were followed by an interactive Q and A session.
The seventh day of the session entitled " World Youth Programme Policy and Prepared to Learn, Prepared to Lead" was actively attended by 67 participants. Vote of Thanks was presented during the closing remarks from Programme Director, Mr. Bijendra Dhowju.