[:en]Launching of NADP[:]
January 23, 2021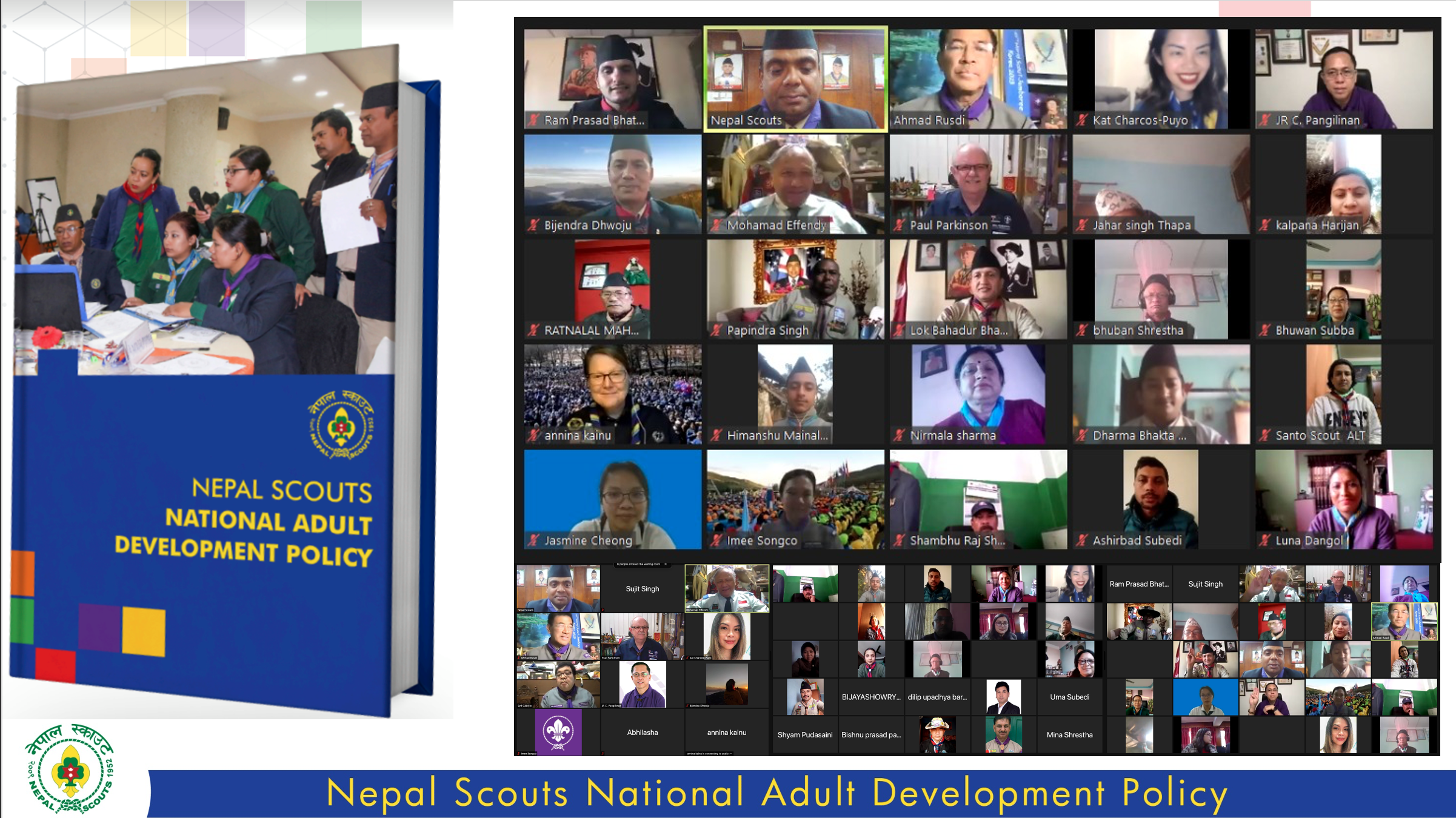 [:en]Jan 23, 2021, The Launching Ceremony of Nepal Scouts National Adult Development Policy was successfully kicked off in the presence of distinguished guests from WOSM & WAGGGS, WOSM Consultants & WAGGGS Volunteers, LT & ALT, and adult leaders of Nepal Scouts. 
The event was officially started with the welcome note from Mr. Bijendra Dhwoju. He implied that Nepal Scouts has been undertaking WOSM Services and WAGGGS Consultation for the preparation of the National Adult Development Policy since July 2020. With huge efforts of the Team involved and related stakeholders, now Nepal Scouts has received its National Adult Development Policy. 
The session was followed by Mr. Lok Bahadur Bhandari. During his special remarks, he stressed that today is a significant moment in the history of Nepal Scouts and he assured on the proper implementation of the National Adult Development Policy (NADP). The implementation of this policy by such a large number of Leader trainers and adult leaders is expected to contribute to the tremendous rise of membership of Nepal Scouts. He also appreciated the WOSM Consultant, WAGGGS Volunteers, and Nepal Scouts Team for their tireless effort on the development of Nepal Scout's NADP Policy even during the Pandemic situation. 
The main session was then administered by Mr. Devraj Ghimire to introduced the National Development Policy. He emphasizes the background, importance, and uses of NADP will play a virtual role to adult leaders in Nepal Scouts. 
The Program was then ended with special remarks by Mr. J.R.C Pangilinam, Regional Director – World Scout Bureau APR Support Center, WOSM, Ms. Katherine Ann Charchos Puyo, Vice-Chair, AP Regional Committee, WAGGGS and Mr. Ahmad Rusdi, Chairman APRSC. Our all the distinguished congratulated to Nepal Scouts for undertaking this historic event.
Lastly the closing remarks by Mr. Ram Prasad Bhattarai, Director, Nepal Scouts. He said, "This is a historic achievement for Nepal Scouts that will impact on the development of adults in Nepal. He also added that Youth Program and AIS is the backbone of Nepal Scouts which was impossible without the support from WOSM & WAGGGS".
[:]