Preparatory Course of YESS Girls Movement
January 8, 2018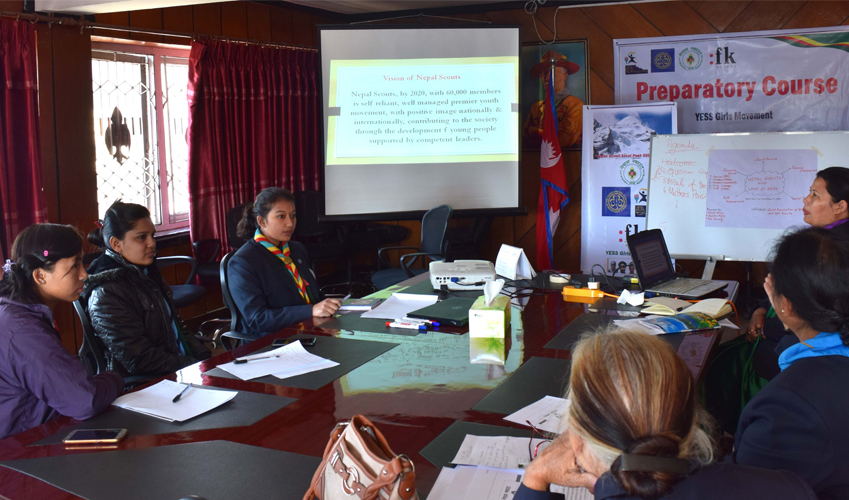 Kathmandu, 1/8/2018, Preparatory Course of Nepal Scouts' YESS Girls Movement Project has officially kicked off in Nepal Scouts National Headquarters. The formal opening ceremony was administrated by Project Coordinator Ms. Shanti Kumari Maharjan, while the course will be held until 12th January 2018.
During the ceremony, National Coordinator- Ad-Hoc Committee, Mr. Chandan Kaushik focused on the development of Girls Movement in Nepal Scouts and Ms. Parbati Giri expressed the best wishes to the YESS Nepal participants for their successful term starting 15th January to 27th July 2018.
Likewise, Ms. Pushpalata Bhattarai, Coordinator STV Project of Nepal Scouts concentrated on the leadership of girl scouts and international participation. Ad-Hoc Committee member Mr. Keshab Maharjan, National Trainer Ms. Rukmini Shrestha and Senior Scout Mr. Gopal Krishna Tamarakar were also present during the formal ceremony.
The aim of this project is to provide young women (18-25 years) from WAGGGS Member Organizations in Africa and the Asia Pacific an opportunity of a six-month international experience. This experience gives the young women a platform to be change agents and make a meaningful contribution to both home (Nepal Scouts) and host countries.
Ranger Scouts from three different districts who were selected previously from Kathmandu, Lalitpur & Bhaktapur will be participating and working as a volunteer in Kenya, Rwanda & Madagascar respectively. They will be trained as a young leader on the Stop the Violence Campaign and Free Being Me.