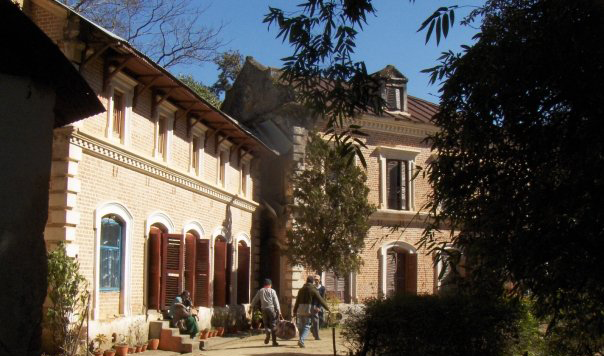 Enriched with all the natural vegetation and the beauty Sundarijal is popular among the youngsters for the picnic, sightseeing, and hiking. It is also known as a connection place for trekking to Chisapani, Nagarkot, Kakani, Gosainkunda and many other places. No wonder the presence of National Training Center of Nepal Scouts over there amazes the people. The place is also regarded as a holy place for Hindus as the place is renowned as the base camp for an annual Hindu Event called "Bol-Bom" (All hail Lord Shiva). Local people even worship Goddess Sundarimai in a regular routine.
The training center is located 15Km northwest of Kathmandu inside the Shivapuri Nagarjun National Park. One can easily reach the center from several of the bus station like Ratnapark, Kalanki, Satdobato, Balaju while the main connection point is found to be Chabahil. After 35 min of travel by bus from the central Kathmandu, you can enjoy the hiking of 2.5 Km for about 30 minutes with the mesmerizing scenes of rocks, springs, rivers and wildlife vegetation. Do not get afraid of the Army camps guarding in between the hiking route till the center because they work as a protector of the national park.
If you plan to go for a camping or hiking over there you can perform various indoor and outdoor scouting cum non scouting activities at the premises of Sundarijal National Training Center and National Park near the river bank or in the middle of the forest. The place is popular among both scouts and non scouts as the road from Sundarijal leads to Bagdwar the origin of the holy river Bagmati. The second hydro electricity project is still in existence and operation. The place is also known as the water supplier to Kathmandu valley as the collection and purification of river water is made. Last but not the lease the most awaited drinking water project Melamchi also passes through the caves of Sundarijal. Over all the travel to National Training center enriches one youth varieties of knowledge on historical, cultural, monumental and natural resources.
FAQ's
• Where is NTC Sundarijal?
-> It is located in Gokarneshwar, Ward No 01, Kathmandu District. It is about 15 km from Kathmandu, North East inside the Sivapur-Nagarjun National Park.
• Who can visit? Is it only for Scouts?
-> The center is open to all. Scouts and Non-Scouts can visit for different purpose like camping, adventure activities, hiking trails, training, seminar, etc.
• What facilities are available?
-> The center carries the history of more than 100 years since the regime of Rana Prime Ministers Juddha Sumser, Dev Sumser and Bir Sumser hence modern facilities and amenities have not been introduced however the National Training Centre offers visitors comfortable camping space for around 100 people at a time. One day activities like Hike and Trail can be made with the number limiting to 250 at once.
• How to book?
-> FOR SCOUTS MEMBERS: Booking must be done through the respective District Scout Headquarters in written format (in letter pad). Email from DHQ is also acceptable. FOR NON-SCOUTS AND INDIVIDUAL: Booking must be done through Nepal Scouts National Headquarters, located in Lainchaur, Kathmandu. You can call in 01 4419001 or email at info@nepalscouts.org.np