3L Project Focal Volunteer Orientation
October 27, 2021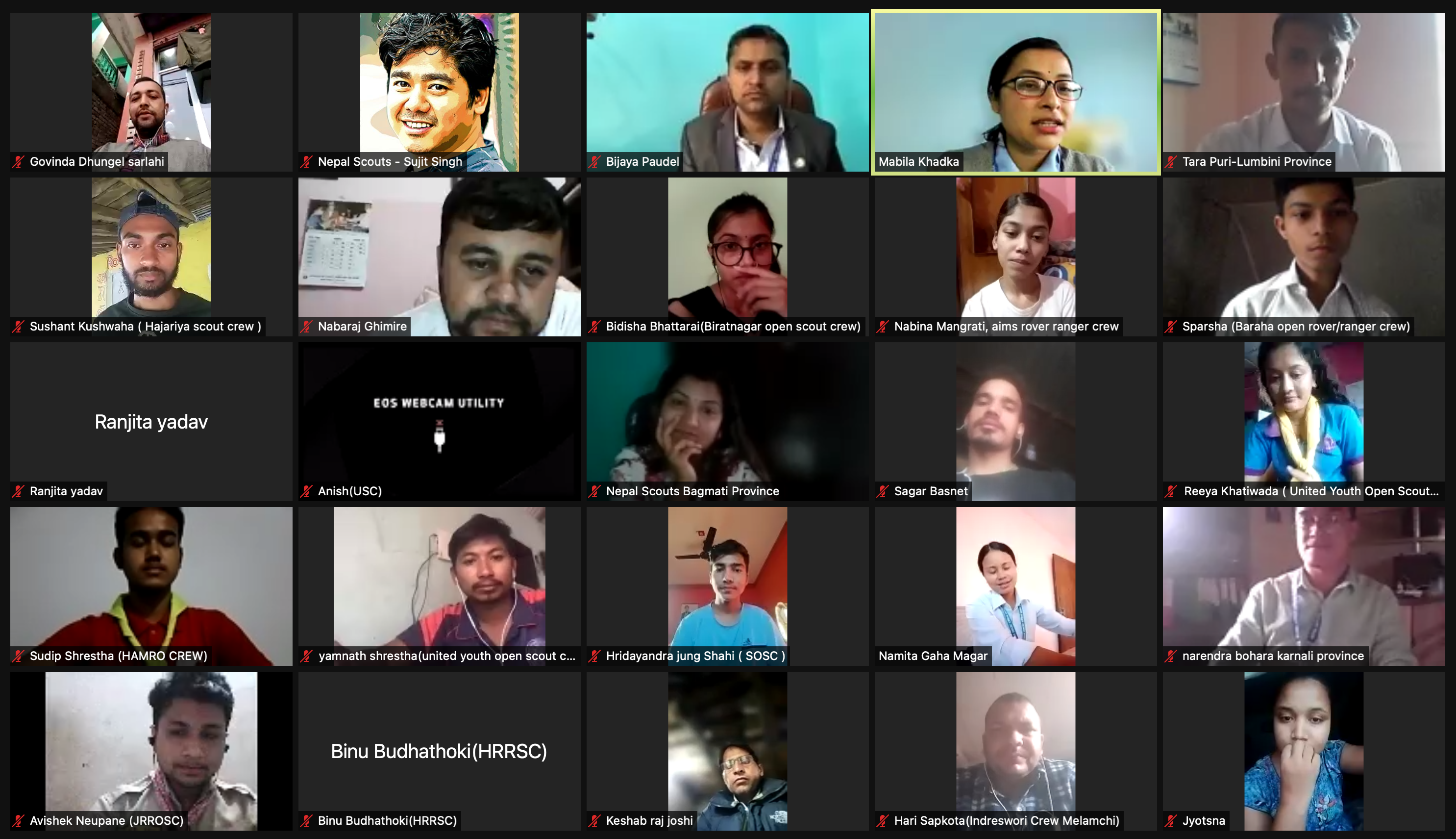 [:en]October 27, 2021, with the declaration of COVID 19 as a Pandemic and the increasing number of cases, the government has decided that the schools will remain closed till an uncertain time. Large group activities of all organizations including Nepal Scouts have been halted for an uncertain time. In this situation, Nepal Scouts has been continuing its activities through a virtual platform. Few scout units of Urban and Semi-urban areas are effectively conducting online sessions.
As a continuation to the virtual scouting activities and events, "Focal Volunteer Orientation" has officially kicked off on 27th Oct, 2021. The program will run from 27th Oct 2021 to 30th Oct 2021 (3:00 PM to 5:00 PM).
Today's session entitled "Project 3L (Life Long Learning)" was administered by Ms. Mabila Khadka. The objectives of the session are:-
About 3L Project 2020 Nepal Scouts
Activity Pack: Scouting In The New Normal
Reflection Corner of Scouting In The New Normal
Roles and Responsibilities of Project 3L Focal Volunteer
She gave a brief description of Project 3L i.e., Life Long Learning, and also explained how it provides opportunities for young women to learn and develop their life skills. This project has benefitted thousands of girls and young women as it generates new income for the member organizations. She also added how 3L Project is beneficial during the COVID-19 Pandemic as the girls and women were forced to stay inside their houses, the vulnerability of domestic violence, suicide, emotional breakdown such as depression etc increased against them, in order to address such issues Nepal Scout have launched 3L project 2020 entitled "Scouting for all, Any Situation, Anywhere, Any How". She also described the objectives of the 3L Project which are:
To develop leadership and advocacy skills in the volunteer
To support in Membership Growth of Nepal Scouts by attracting and involving youths in the project.
To support in improving Scouting Profile in the Community
She elaborated the activities of Project 3L 2020 which are:
Preparation of the Activity Pack for the project
Orientation on Activity Pack for 175 volunteer Rovers, Ranger and Young Scout Leaders.
Implementation of Activity Pack by the volunteers on their communities/units/schools.
Reporting of the Activity Pack completion by Volunteers along with Monitoring and Evaluation.
The Aim of the Activity Pack is to achieve the main aim of Project 3L; to engage and attract youths in Scouting Activities, this Activity Pack also expects to involve scouts as well as non-scouts. She also explained how to complete Activity Pack step wise.
Step 1: Introduce Nepal Scouts Project 3L 2020

Step 2: Complete the THINK/REFLECT section

Step 3: Complete the WAGGGS leadership mindsets section

Step 4: Complete at least one activity from EXPLORE section.

Step 5: Complete the TAKE ACTION/S Section of the respective EXPLORE/S Section.
Further, she explained the Roles and Responsibilities of the Focal Volunteer which are:
1) Pre-Implementation Phase: Attend the 3L Focal Volunteer Orientation, Coordinate with the Project team members and gain an in-depth understanding of the Activity Pack and it's rolling-out process, and be fully aware of its roles and responsibilities.
2) Implementation Phase: Select at least 12 participants from the Unit/neighborhood community and receive the Activity Pack rolling out materials from respective Provincial Scout Officers, Capture photos.
3) Post-Implementation Phase: Fill up reporting and evaluation form and share it to the drive or via email, motivating other Focal Volunteers.
The enthusiastic participation of 47 Leader Trainers on Zoom Platform marked the success of the First Session of 3L Project 2021.
[:]