[:en]COVID-19 Pandemic Awareness[:]
March 17, 2020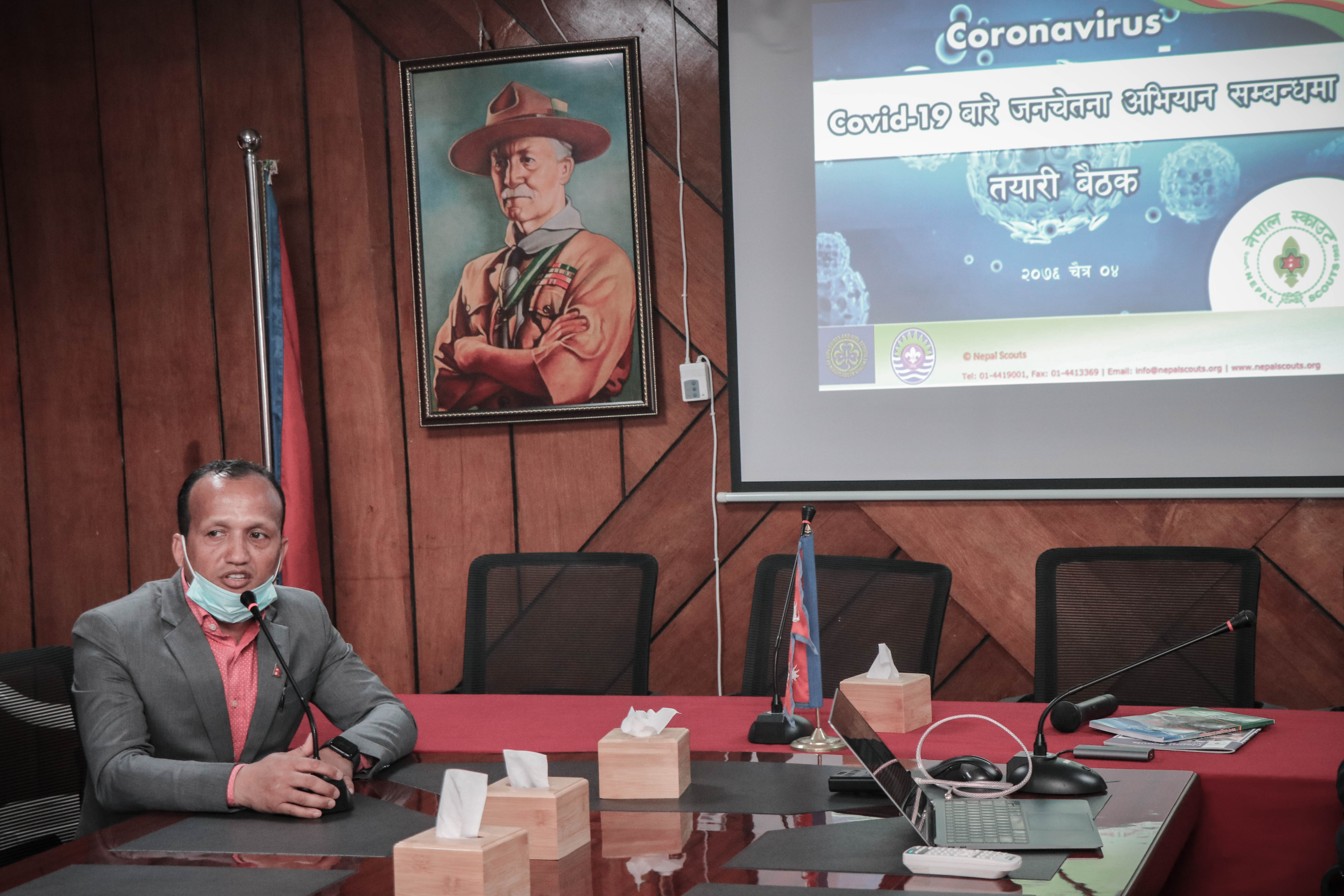 [:en]Nepal Scouts has organized COVID-19 Pandemic Awareness Preparatory Meeting at National Headquarters to Rover/Ranger Leaders of Kathmandu Valley to attempt the needful precautions and spread the awareness in their community. The safety of all Scouts is our utmost priority, and we take the health, safety and well-being of young people, volunteers and staff, very seriously.
Message from National Coordinator:
So, How can you run the Awareness Campaign with safety measures?

Materials you can distribute/share:
Download Covid-19 (Front)[2]        Covid-19 (Front)[2] Covid-19 (Back)[2]
Prevention Methods Recommended by WHO
– Frequently clean hands by using an alcohol-based hand sanitizer, or soap and water for at least 20 seconds.
– Avoid touching your eyes, nose, and mouth.
– When coughing and sneezing, cover your mouth and nose with a flexed elbow or tissue – throw the tissue away immediately and wash your hands.
– Maintain a social distance of at least 1 meter (3 feet)/ avoid contact with anyone who has a fever and cough.
– If you have a fever, cough and experience difficulty breathing, seek medical care immediately and share any previous travel history with your health care provider. Please refer to your respective country health authorities for guidance on seeking medical help with COVID-19.
– Avoid crowded places and events whenever possible.
– Clean frequently touched surfaces and objects daily.
– If you do not feel well, opt to work from home/stay home.
– The WHO only recommends wearing a mask if you are feeling unwell, or looking after someone who is unwell. If you do decide to wear a mask, find out how to wear one the right way here.
– If you decide to travel, review up-to-date visa and travel restrictions that may have been imposed by your destination country and/or any transit airports. Continue to practice good hand and respiratory hygiene while traveling.
[:]