NS represented ISG2018[:]
February 20, 2018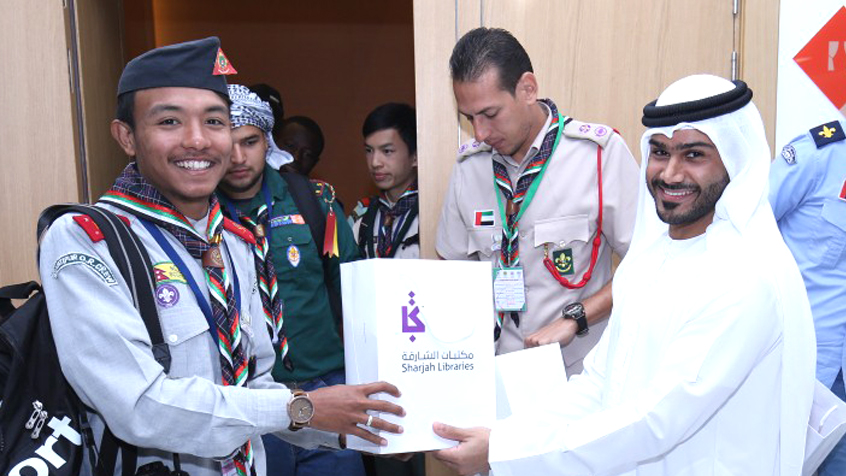 The patronage and sponsorship of His Highness Sheikh Dr. Sultan Bin Mohamed Al Qasimi, Supreme Council Member and Ruler of Sharjah, 8th International Scout Gathering have been taken place from February 1 to 10, 2018 in UAE.
The main objectives of the Gathering was to, strengthen ties of friendship and brotherhood among the participants from all over the world through capacity building of the participants and encouraging them to exchange their cultures. Similarly, to introduce the importance of reading and to introduce to the landmarks in Sharjah governorate as buildings established like traditional houses, squares and government offices, the different museums, universities and Scientific and Cultural bodies.
Representing our Nepal Scouts, Amir Karki (Rover Scout) participated in the Sharjah 8th International Scout Gathering. A word from Karki;
"It's me Amir Karki from Kantipur Open Rover/Ranger Crew. I have just visited Sharjah, UAE for 8th International Scout gathering. It was really interesting moment for me. I had a great experience there. I learned different things. I hope I will be able to share those things to all. It was a really proud moment for me to represent my country throughout the world for this I would like to thank Nepal Scouts for thinking me capable and giving me this opportunity and all those individuals for helping me to achieve this opportunity."
The Sharjah 8th International Scout Gathering 2018 was successfully attended by the participant from 82 countries.