[:en]SMS Campaign II – POST LOCKDOWN- COVID PREVENTION ACTION [:]
October 15, 2020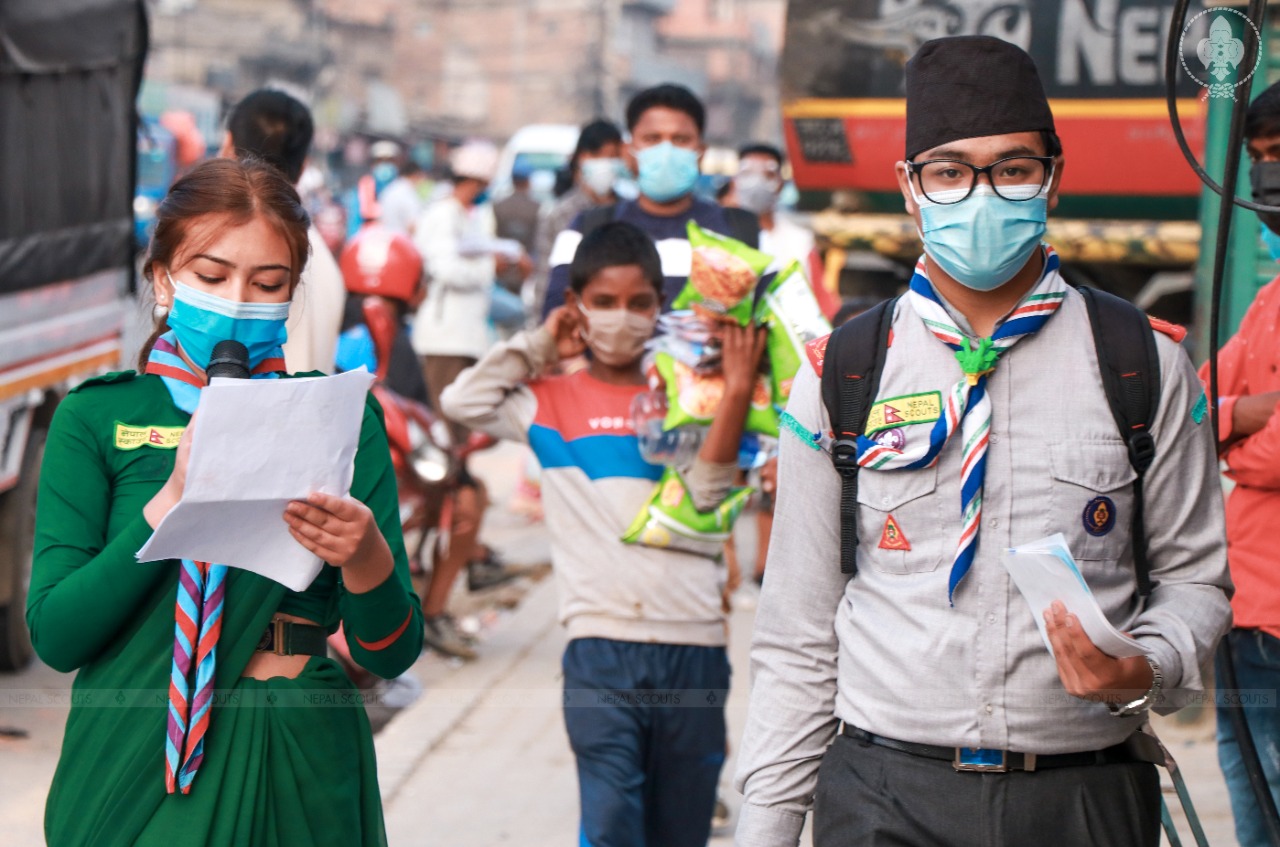 [:en]
POST LOCKDOWN- COVID PREVENTION ACTION BY NEPAL SCOUTS VOLUNTEERS
Nepal Scouts has yet again launched SMS Campaign- Phase 2 namely "COVID-19 community engagement and message reinforcement through Nepal Scouts volunteers " partnering with UNICEF and in collaboration with the Ministry of Health and Population (MoHP) and HISSAN. The growing cases of COVID-19 upsurged the need for this campaign to check and limit the spread of the virus especially during the festive season where people are getting more impulsive to go to market places and travel widely. This campaign is designed to inform, educate, and influence the public in a crowded place to stay safe in this pandemic and to put forward information that will help to filter out excess of misleading material.
Post lockdown, in the need of effective preventive measures especially in the crowded places inside and outside Kathmandu Valley, Nepal Scouts Volunteers have continuously committed to service of preventing COVID in their local communities. Volunteers are working from 7 am to 7 pm every day campaigning about the SMS Practices- namely social distancing, mask use, and hand hygiene through targeted interpersonal communications using demonstrations on using masks and sanitizers, distributing informational pamphlets, banners and also using the mass approach by miking across the crowded local areas.  
Inside Kathmandu valley, a total of 71 volunteers have been mobilized in 20 different most Covid prone areas. Volunteers have often reported that their service has been well appreciated in the community and has been well acknowledged. However, they also expressed that some people were unruly and didn't take the precautions required for the safety of the community. Despite such challenges, the volunteers have been working relentlessly to promote the SAFE COMMUNITY. 
The volunteers maintain that despite the overall preventive campaigns conducted across various mediums- radio, television, social media, and others, the situation in the public places still needs to be sensitized and preventive behavior needs to be continuously reinforced using different formative means.