Youth Involvement for Reviewing and Update Youth Program
October 9, 2020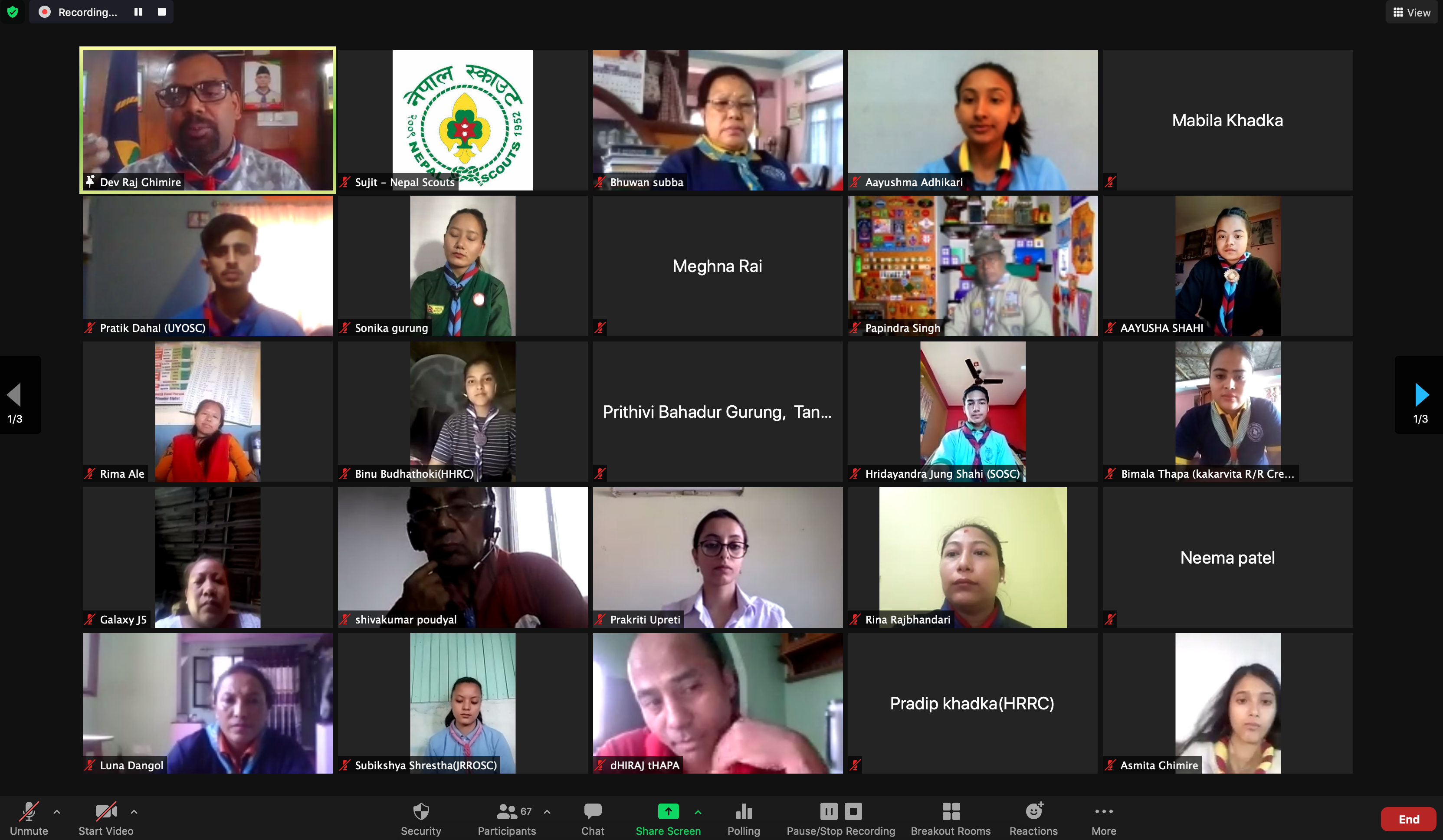 8 October 2020, Nepal Scouts has officially kicked off "Youth Involvement for Reviewing and Update Youth Program" 2020 on October 8, 2020, through the Zoom Platform. This program aims to bring together the Rover Ranger Leaders and Rover Ranger from all the Crew to involve our young leaders in the Reviewing and Updating Youth Program.
It was organized on 7th Oct 2020 to 8th Oct 2020 for two hours each day. The program was officially commenced in the presence of Mr. Lok Bahadhur Bhandari – National Coordinator AD-Hoc Committee, Mr. Bijendra Dhowju -Member, National Ad-Hoc Committee and Mr. Devraj Ghimire, Leader Trainer & WOSM Consultant.
Welcome remarks were presented by Mr. Lok Bhadhur Bhandari and highlighted the main objective of the event which includes: 1) To address and incorporate the needs and interests of Youth to Update Youth Program, 2) Involving Youth in at all levels Scouting.
The session was then followed by Mr. Devraj Ghimire, Leader Trainer & WOSM Consultant. During the session, he explained in detail on the Review of Youth Programme Understanding, World Scout Youth Programme Policy, and World Scout Involvement Policies & Existing Nepal Scouts Youth Programme of Rover/Ranger Section.
Furthermore, he also enlightened the initiative & programs of World Scouting such as Ticket to life, Messenger of Peace, Earthtribe, and similarly on the WAGGGS part, Free being me and Stop the Violence.
Lastly, the Q/A session with the participants was fruitful to learn about weakness & strength. The session was then followed by Mr. Sujit Maharjan on the survey form to be filled by Rover/ Ranger Scout and Rover/ Ranger Leader form separately. In the end, Mr. Bijendra Dhowju, Member National Ad-Hoc Committee presented the closing remarks.