Opening Ceremony of CEWS
September 30, 2020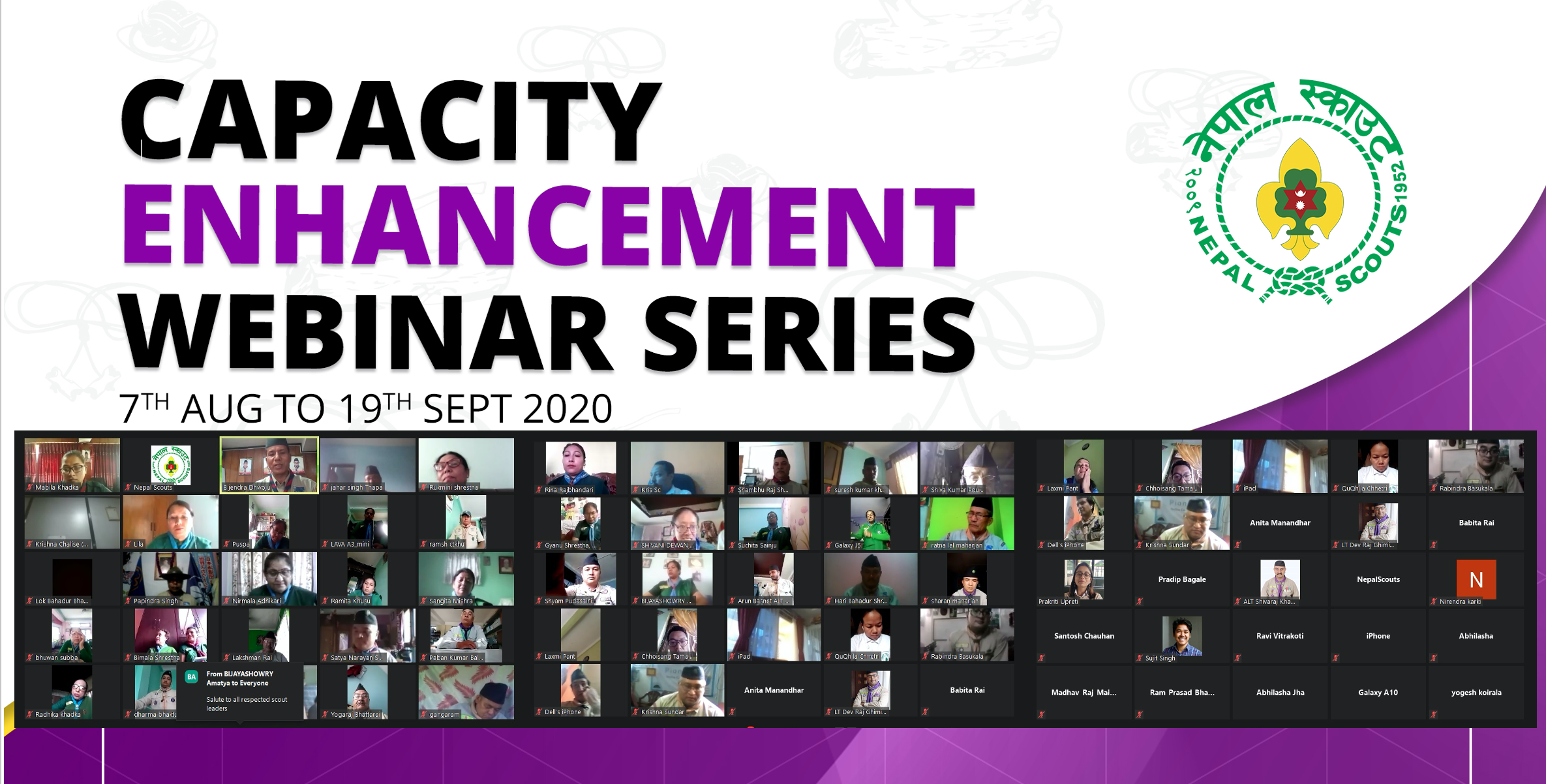 August 7, 2020, With the declaration of nationwide lockdown due to COVID 19 Pandemic, Nepal Scouts has been emphasizing to continue scouting through Virtual Platforms. As a continuation of the virtual scouting activities and events, the "Capacity Enhancement Webinar Series" has officially kicked off on 7th Aug. 2020. The programme will run from 7th Aug 2020 to 19th Sept 2020 every Friday(3:00 PM to 5:00 PM) and Saturday (5:00 PM to 7:00 PM) for 7 weeks with a total of 14 sessions. The valuable inputs in the sessions will be given by the resource person invited from WAGGGS, WOSM, Nepal Scouts, and other related fields.
The Webinar was officially commenced in the presence of Mr. Ram Prasad Bhattrai, Director of Nepal Scouts, Mr. Bijendra Dhowju, Member, National Ad-Hoc Committee, and Mr. Lok Bhadhur Bhandari, National Coordinator.
Mr. Ram Prasad Bhattrai presented the welcome remarks. Further, he said that the program will support maintaining the uniformity in delivering Contents of upcoming training also keeping the standards of the training high.
Mr. Bijendra Dhowju highlighted the event and its objectives. He said that the Programme will support in capacity enhancement of leader trainers by providing updated information on the scouting topics.
Mr. Lok Bahadur Bhandari declared the official opening of the Webinar along with his special remarks. He mentioned that Webinar Series will support in upgrading the content delivery by Leader Trainers for upcoming training. He also stated that Nepal Scouts has been taking Leadership development and Capacity Enhancement of National and Assistant National Leader Trainers into core consideration.