Safe from Harm (WOSM) by Dr. Ekbert Yong – WOSM Consultant & Surf Smart (WAGGGS) by Ms. Prerana Shakya – Global Programmes Manager (WAGGGS)
September 5, 2020
hello
September 5, 2020

The reflection on the previous session held on 4th September 2020 on "World Adult in Scouting Policy and Leadership Development Framework" led by Mr. Paul Parkinson, WOSM Consultant, and Ms. Annina Kainu, WAGGGS Volunteer, was presented by Assistant National Leader Trainer, Ms. Uma Subedi.
The tenth session of the Capacity Enhancement Webinar Series was divided into two sections:
(i) Safe from Harm and (ii) Surf Smart
The main objective of the session is to raise awareness on:
(i) Digital Wellbeing, &
(ii) Cyber Security
The first section of the session was administered by Dr. Ekbert Yong, WOSM Consultant on the topic " Safe from Harm". Firstly, he explains the main objectives of the session which includes:
(i) Understand Child Protection
(ii) Recognize the importance of keeping scouts Safe from Harm
(iii) Know What is Safe from Harm Policy and its insights
Secondly, he defined Child Protection and he also explained the Safe from Harm World Policy which aims to keep scouts safe from harm by supporting the development of National Frameworks.
Thirdly, he explained Safe from Harm in the Context of Scouting and focused on the National Scouts Organization job which includes implementation of the policy requiring putting in place a systemic approach to prevent and react to situations that may affect the wellbeing, development and safety of children and young people.
Furthermore, he also focused on " Why do you need to know What is Abuse?"
(i) By learning more about abuse, you will be able to act in a safe and secure way
(ii) You will be able to work preventively both when planning and participating in activities
(iii) You will also know how to act if something happens.
And the form of abuse which includes:
(i) Bullying (ii) Physical Abuse (iii) Emotional Abuse (iv) Neglect (v) Sexual Abuse
He said, abuse can take place between
(i) Adults and Scout
(ii) Adults and other adults
(iii) Scouts and Scout
He also explained the Safe From Harm timeline and WOSM timeline, Child protection toolkit, and Safe from Harm Anti-Bullying Tool kit. Similarly, he talked about the bullying and its types which includes:-
Physical Abuse
Verbal Abuse
Social Abuse
Cyber Abuse
Way to handle Abuse: For children affected by abuse and neglect, stay calm, be reassuring and find a quiet place to talk.
The role of NSO in Safe from Harm Policy is discussed:
They must develop & align SFH policy (NSO & WOSM)
They must define systems and procedures for the implementation and monitoring of NFH Policy.
They must identify and create a Committee Responsible for SFH.
At the end of the first session, there was a Question and Answer session and the closing remarks were presented by Mr.Bijendra Dhwoju, Ad-hoc, Committee.
The Second session was administered by Ms. Prerna Shakya, Global Programme Manager, WAGGGS on the topic " SURF SMART" of WAGGGS which deals with the Safety of personal information during the internet surfing and how we can be safe from the internet hackers and avoid loss of our data while working online.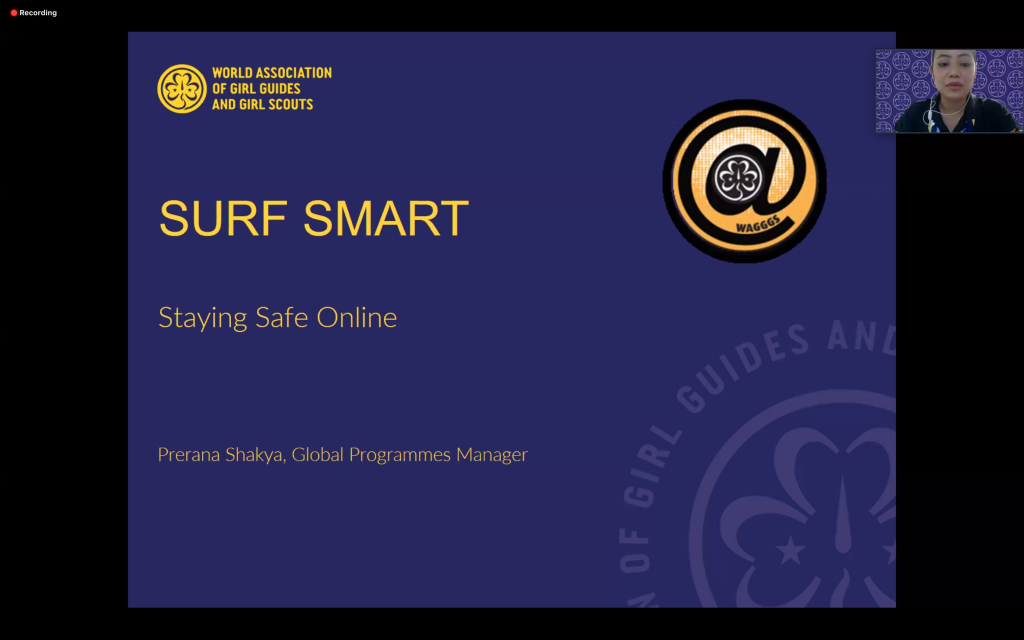 She explained about Internet Safety and why it is necessary for all. How user-friendly the new technology is and on the contrary to that there are lots of risks which we must understand. She said that our aim is to raise a generation of internet-savvy girls and young women who can use the internet to make a positive change in the World. Surf Smart began in 2011 with a partnership with NortonLifeLock to help the girls make the most out of the internet whilst safe staying online. Further, she talked about the Norton LifeLock and what are the factors it is committed to. The SURF SMART INTERNET SAFETY of more than 350,000 reached among the 5 continents and 44 countries are involved in this program, it is available in 9 different languages.
Moreover, she gave an overview of the SURF SMART and explained about the three themes which are:
1.) CONNECT… Positively online, 2.) PROTECT…Yourself from online risks and, 3.) RESPECT… Your rights and reputation online and finally Put Yourself First.
There are three parts of SURF SMART:
Getting Started Activities
Press Enter: -Discover…Internet wonders
-Connect…positively Online….etc
MY ACTIVE Digital Citizen Promise.
She put up an activity for the participants, which they needed to answer.
The first activity was for CONNECT.-She put up some questions which the Participants needed to answer. The questions were in the form of Poll and Quizzes.
The second activity was for PROTECT- she talked about the phishing and how we can protect yourself from the online risk.
The third activity was for RESPECT- she told the participants to post positive information online and follow the rule of respecting others and protecting their own reputation.
She explained about the Adult Internet Safety Guidance. Also, the usage of different apps worldwide and how many posts are done, views, likes, messages sent in a minute which shows that there is a huge risk staying online.
Lastly, she shared a link:
1.) To learn more about the WAGGGS https://www.wagggs.org/
2.) SURF SMART Programme: https://www.wagggs.org/en/resources/resource-listing/?search=surf+smart
The 10th day session on the topic " Safe from Harm" and "Surf Smart" was concluded with 62 participants.