WOSM Guidelines On Spiritual and Religious Development by Mr. Bijendra Dhowju Member
September 5, 2020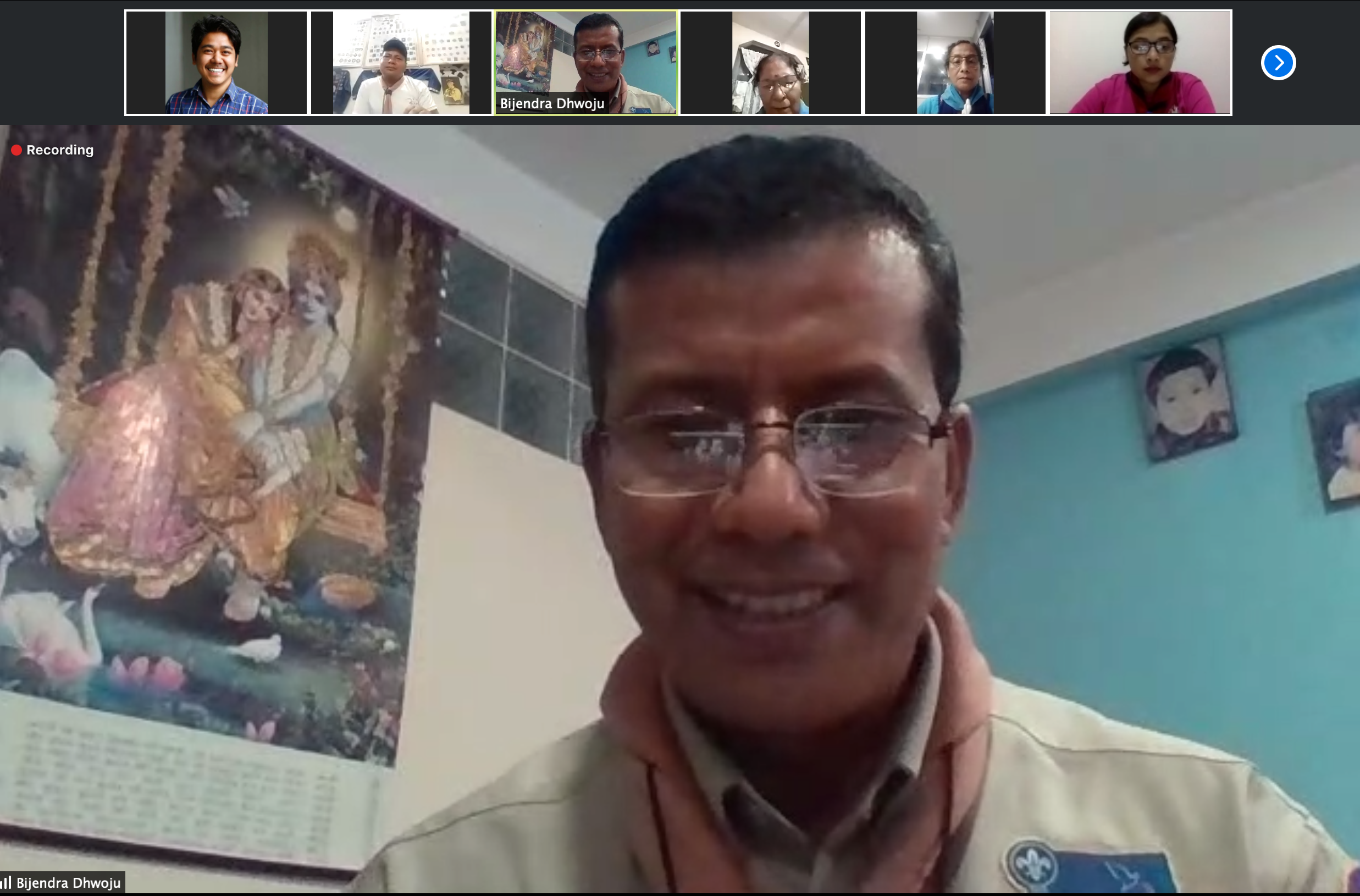 The reflection on the previous session held on 22nd August, 2020 on "Stress Management" led by Swami Anand Arhat was presented by National Leader Trainer, Suchita Sainju.
The session was then followed by Mr. Bijendra Dhwoju on the topic " WOSM Guidelines on Spiritual and Religious Development". The main objective of the session was to deliver updated knowledge on the guidelines developed by WOSM on Spiritual awareness. Firstly, he explained the participants about spirituality and stated how it envisions an inner path enabling a person to discover the essence of his/her being. He also highlighted that Spirituality helps us to address the meaning and purpose of life, about the future, defines the differences between right and wrong, how we should act rightly and why there is so much wrong in the world. He also talked about Adult support in Spiritual Development.
Secondly, he talked about learning objectives for Spiritual Development. He explained the learning cycle and spiritual development which include:
Exploring
Reflecting
Connecting
Deciding
Next, he also said that Spirituality is a value-based education and the process by which people enhance moral values.
Furthermore, he talked about the qualities of spiritual people which comprises:
Gracious- expressing Gratitude with many positive emotions, optimist, generous with time and resources
Compassionate
Encourage people to be positive
A variety of positive or pre-social emotions having strong links to spiritualism, including allowing one to feel good about the little things in life and look at the world through emphatic eyes.
He also explained five ways to put Spirituality into practice. It includes:
Learn What Spirituality is
Pray or Meditate
Generosity
Live Healthier
Focus on Yourself
Lastly, he explained the significance of Scouts' Own and said it is an important part of scout activities. He also talked about the brief history of Duty to God in the promise.
The sixth day of the session entitled "WOSM Guidelines on Spiritual and Religious Development", conducted by Bijendra Dhwoju, Member, Ad-Hoc Committee was actively attended with 67 participants.