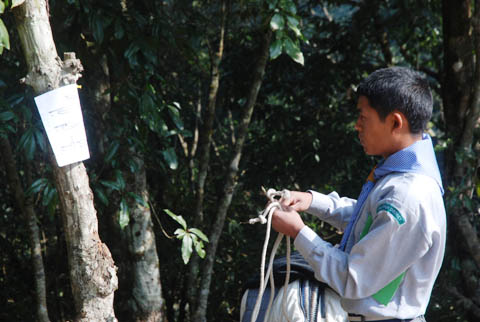 Ticket to Life Project (TTL)
TICKET TO LIFE is a flagship project currently being implemented by the Asia-Pacific Regional Office of the World Organization of the Scout Movement. This project integrates street children to society, through Scouting, in eight countries: Bangladesh, India, Indonesia, Mongolia, Nepal, Pakistan, Philippines, and Sri Lanka.
Background :
On the source of UNICEF, currently an estimated 38% of the population is aged under 14 years and the pressure of change falls heavily on this age group and this has resulted in significant levels of child migration. Children move away from their homes for a variety of reasons including the death of one or both parents, poverty, illiteracy, domestic abuse and the perceived attractions of city life.
Judging the above situation, Nepal Scouts applied for the World Scout Bureau/ Asia- Pacific Region for Ticket to Life Project and provided the grant to Nepal Scouts, which helping to engaging street children of adolescents age in Scout Program, providing them opportunity for all round development (Emotional, Spiritual, Intellectual, Physical and Social) through Scouting but without removing them from their current dwelling. This is helping these children to socialize and develop a plan for their own life.
Objectives
TTL Workshops is a learning opportunity for Scout leaders so they can be agents of change and contribute in improving the situation of children in eight emergent and developing pilot countries, in accordance with the United Nation's Convention of the Rights of the Child.
Organize a Scout Troop where Street Children exists in order for them to have a secure place where they can develop positive relations with adults and peers.
3. To lessen the number of street children in the eight participating countries for a period of three years, reintegrating the Street Children into their families and community, so that they may become productive and responsible members of their society.