Scout, Peace and Security Training of Trainers
March 7, 2023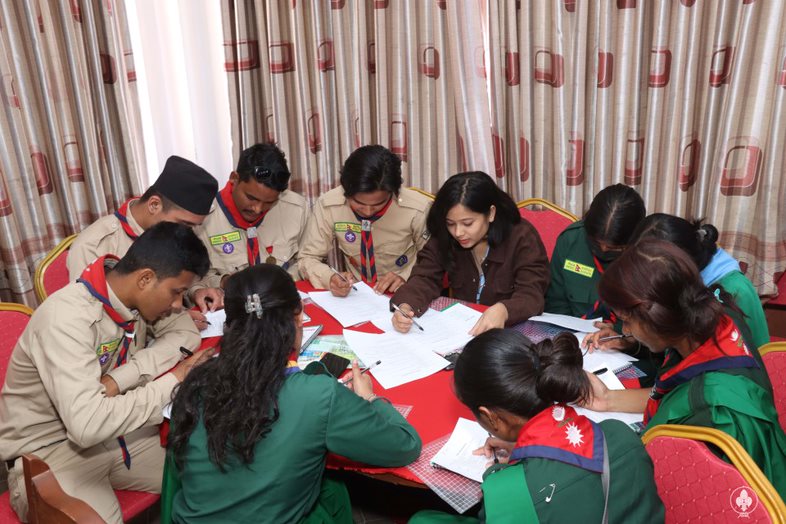 With the focus of educating young minds about peace and conflict dynamics, 4 days of Training of Trainers (TOT) was conducted at Kakani International Scouts Center from 2nd March – 5th March, 2023. A total of 72 participants representing 7 provinces participated for the duration of the training. The participants will now be conducting the training at their local level and building the network of 480 trained scouts. Furthermore, those scouts will then be educating young people between the age of 11-15 years of old. The program thus is focused on the young age group who will be involved in the decision-making process in the years to come.
The session was led by CEO of TimeOut Foundation, Laura Arikka, Co-Chair of the Projects, Sara Latvus and Maija Santalahiti along with the Nepal Scouts Officials and Volunteers. The session was focused on the timeout dialogue method along with conflict resolution skills, combating hate speech, skills for life and 2250 youth peace and security. Alongside this, the skills required for training the trainers at the provincial level and facilitation skills were also discussed during the training. In addition to this, participants were engaged in the activity games such as privilege walk, comfort zone, and networking game that showcased the theme of the peace education.
The aim of creating a sustainable peacebuilding mechanism and reducing interpersonal conflict or group conflict, this program helps to empower the scouts with the skills and knowledge. The objective is to reach out to the grassroots level and engage the community in the discussion so that any form of conflict doesn't escalate to violence and the community member could also raise the voice whenever needed.
A closing remark was provided by National Coordinator of Nepal Scouts, Mr. Lok Bahadur Bhandari who highlighted the need of the youths to participate in the program. Furthermore, he also emphasized empowering the other individuals in their schools, colleges and building a powerful network for creating a better world.